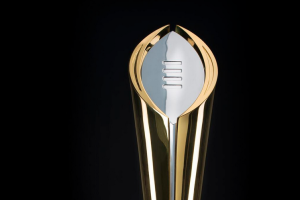 It all comes down to this: #1 Clemson vs #2 Alabama to decide college football's national champion. Kickoff is at 8:30 pm Eastern on January 11 from University of Phoenix Stadium in Glendale. The game will be televised on ESPN.
The Kickoff Editor Tommy Duff expects a good game, although "I'm not really sure what to expect from Clemson at this point because it's very difficult to get a read on just how they match up."
The knock on Clemson was that they had not played anyone of note that jumped out, he said, but that was before the Tigers convincingly beat #4 Oklahoma 37-17 in the Orange Bowl to extend their win streak to 17 in a row, tied for the second-longest streak in ACC history.
"Oklahoma was an eye opener, so I could go with what the numbers say, which would be Bama, but I'm not that confident in the numbers because I think Clemson is as talented as anyone in the SEC at this point," Duff said.
The game could be summarized as Alabama's front seven versus Deshaun Watson.
"Mobile quarterbacks have been more successful against Bama's defense, and Clemson has the best mobile QB in the nation. It comes down to the battle in the trenches, Alabama's defensive line against Clemson's offensive line. They have to neutralize Watson's ability to improvise with his legs, both his scrambling ability as well as his ability to complete passes outside the pocket."
The Crimson Tide shut out #3 Michigan State 38-0 in the Cotton Bowl. Their sole loss was in week three against an Ole Miss team that ended the year ranked #12 with a 10-3 record, losing to Florida, Memphis and Arkansas.
The Tide – picked as a 7-point favorite by Vegas — will seek to dominate Watson and Clemson with the best passing defense in the country. Alabama claims 15 national titles, Clemson's only title came in 1981 under Danny Ford. It's a new day, though, under Dabo Sweeney as the Tigers have won 10 games in five straight seasons and prepare to take on Sweeney's alma mater.
Back in August, The Kickoff picked Ohio State and TCU as our top two teams, but we had Alabama ranked #4 and Clemson ranked #10. We predicted Watson would be one of 2015's breakout players, along with eventual Heisman winner Derrick Henry, who is sure to be unleashed once again. In the preseason, Vegas had Clemson ranked at #20, while the Coaches' Poll had the Tigers coming in at #12.
Our 2015 Kickoff All-American first and second teams included Watson and Henry, as well as Alabama's Ryan Kelly, A'Shawn Robinson, Reggie Ragland, and Eddie Jackson, as well as Clemson's Jordan Leggett and Shaq Lawson.
There are some parallels between the FBS and FCS championship games this week. The Crimson Tide isn't the only team from the state of Alabama looking for a trophy. Jacksonville State is playing North Dakota State in the FCS national title game Saturday. And like Nick Saban's squad, NDSU goes into its game with a reputation for reloading each year with the nation's best players. This is the fifth straight appearance by the Bison.
JSU Quarterback Eli Jenkins has run for 13 touchdowns and passed for 19 with 2,484 passing yards and 1,030 yards rushing. Running back Troymaine Pope has also shattered records. For North Dakota State, Quarterback and potential first round draft pick Caron Wentz goes into the game with experience, having won the last four NCAA FCS Championships, and fellow Quarterback Easton Stick has kept NDSU in the hunt after injuries to Wentz. The Gamecocks beat Sam Houston 62-10 on Dec. 19 to advance to the final. The Bison defeated Richmond 33-7.
The Kickoff has followed JSU and NDSU throughout the year in our Select Division I FCS Schedule listings. In week 2, pre-season #3 ranked Auburn barely survived an overtime clash with the Gamecocks (JSU's only regular season loss) while NDSU's only losses were to Montana and South Dakota. JSU has made the FCS playoffs three straight years, but hasn't advanced past the second round since 2013 when they fell in the quarterfinals – a win Saturday would be their first FCS title.
The FCS Championship game will kickoff at noon eastern at Toyota Stadium in Frisco, Texas. The game will air on ESPN2.
The final issue of The Kickoff this season will include Bowl recaps with final records.
We will publish six monthly issues during the Off Season (February-July). We will look at recruiting, preseason injury reports, breakout players, Heisman hopefuls, and break down the Top 10 high school prospects by position so you know what needs the top teams are hoping to fill. We predict which prospects have the potential to be future stars, elevate programs, or at least contribute right away. Just as we show you the future high school and JUCO stars in the making, the Kickoff reports on which players won't be around to help their teams in the fall. We also enhance your enjoyment of NFL games by letting you know where your favorite college players may end up in the fall.
To subscribe for 2016, visit https://thekickoffstore.com/subscriptions/individual/
To learn more about setting up your business to use The Kickoff as an advertising product, visit https://thekickoffstore.com/subscriptions/business/
To order our new Basketball newsletter, The Tipoff, call us at (423) 267-0953.