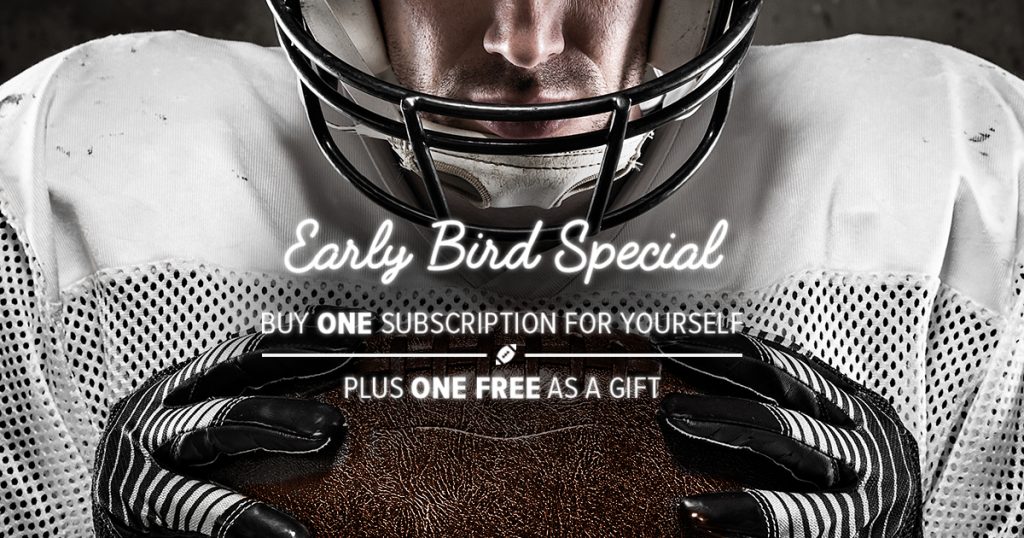 Buy One Get One Free
The Buy One Get One Free "Early Bird" Special is back! For just $31, you can get a full year PDF/Email subscription (23 issues) for yourself — and FREE BONUS subscription for a friend. Or spend $23 for a 17 week Email Subscription that will push a PDF version of our newsletter to your inbox during college football season.
The headlines in college football…
Associated Press – AP Top 25 Heat Check: Oklahoma, Ohio State switch places
Sports Illustrated – Five Teams Whose College Football Playoff Hopes Already Look Sunk
Associated Press – PICK SIX: Longhorns are among teams facing QB quandaries
ESPN – Ohio State, Auburn, Notre Dame need to go back to the drawing board
Associated Press – Mayfield sorry for planting Oklahoma flag at Ohio State
SB Nation – Baker Mayfield didn't need to apologize for planting Oklahoma's flag on Ohio State's field
AL.com – Why would you believe Gus Malzahn's promise of a good offense to come?
Yahoo! Sports – How hot is Brian Kelly's seat at Notre Dame after Georgia loss?
SB Nation – Tennessee-Florida could move from Gainesville amid Hurricane Irma aftermath
USAToday – No. 23 Vols know defense must improve entering SEC play
Orlando Sentinel – Louisville QB Lamar Jackson shows doubters why he won Heisman Trophy
Charlotte Observer – Meyer still angry, trying to move on after Oklahoma loss
Cleveland.com – Alabama, Oklahoma and Clemson are early teams to watch: College Football Report 2017
Freep.com – Michigan DE Donovan Jeter out for the season with an injury
USAToday – Back to Zach: Baylor making change at QB after 0-2 start
Yahoo! Sports – Forde-Yard Dash: Gauging the rise of the Big 12 and the fall of the SEC West
AL.com – Four takeaways from Alabama's win over Fresno State: Why offensive strategy was curious