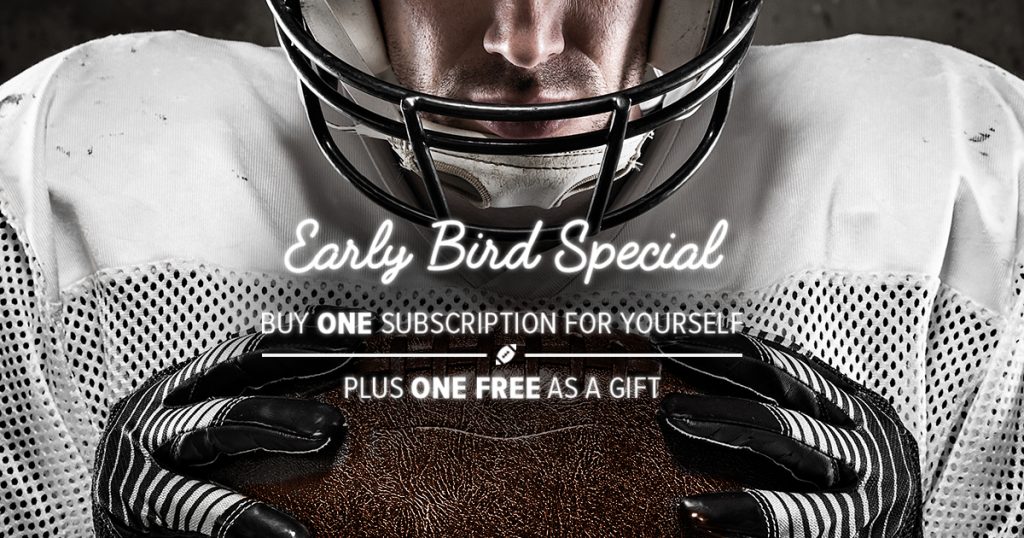 Buy One Get One Free
The Buy One Get One Free "Early Bird" Special is back! For just $31, you can get a full year PDF/Email subscription (23 issues) for yourself — and FREE BONUS subscription for a friend. Or spend $23 for a 17 week Email Subscription that will push a PDF version of our newsletter to your inbox during college football season.
The headlines in college football…
Associated Press – Freeze resigns as Ole Miss football coach after 5 seasons
Associated Press – Coaching swaps sparked by scandal have led to sorry seasons
Sporting News – Hugh Freeze's lack of accountability finally caught up with Ole Miss
SB Nation – Hugh Freeze's exit means only 3 current coaches have beaten Nick Saban twice
SB Nation – Hugh Freeze's exit *technically* wasn't about Ole Miss' NCAA scandal
Associated Press – Vols believe they can thrive amid lack of preseason acclaim
St. Louis Dispatch – SEC preview: Can Auburn dethrone Alabama?
Sporting News – Former four-star RB recruit B.J. Emmons leaving Alabama, reports say
NCAAF
Washington Post – 'This is where you need to be': Penn State's road back, five years after NCAA sanctions
CBS Sports – Ed Orgeron deserves patience while rebuilding LSU's football program
MSN – Why Alabama's No. 1 recruiting streak might end at 7 years
Chron – Feisty Kevin Sumlin shows he's far from 'defeated' in response to SEC Network analysts
Fox Sports – Lack of veteran QBs adds uncertainty to NEC season
Seattle Times – Pac-12 football preview: USC is back in the national championship picture
Sports Illustrated – Where the Crimson Tide's Green Goes
ESPN – Quarterback controversy at Alabama? No way
ESPN – Can college football do anything about the length of games?