Description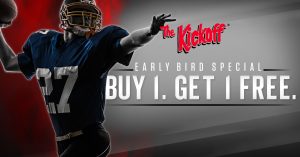 Give the gift of college football knowledge to someone who loves it as much as you do! Take care of renewing your current email/PDF subscription to The Kickoff now, and we'll arrange to send a FREE bonus subscription to a friend at no extra cost when the new season begins in August 2019.
For just $33, you can get a full year PDF/Email subscription (23 issues) for yourself and a friend. Or spend $25 for a 17-week Email Subscription that will push a PDF version of our newsletter to your inbox each Monday morning throughout the regular season (beginning with Issue #1 on in August 2019) and beyond the national championship game in early 2020.
Being an early bird pays! Why wait until the last minute when you can act now, be all set, and SAVE?