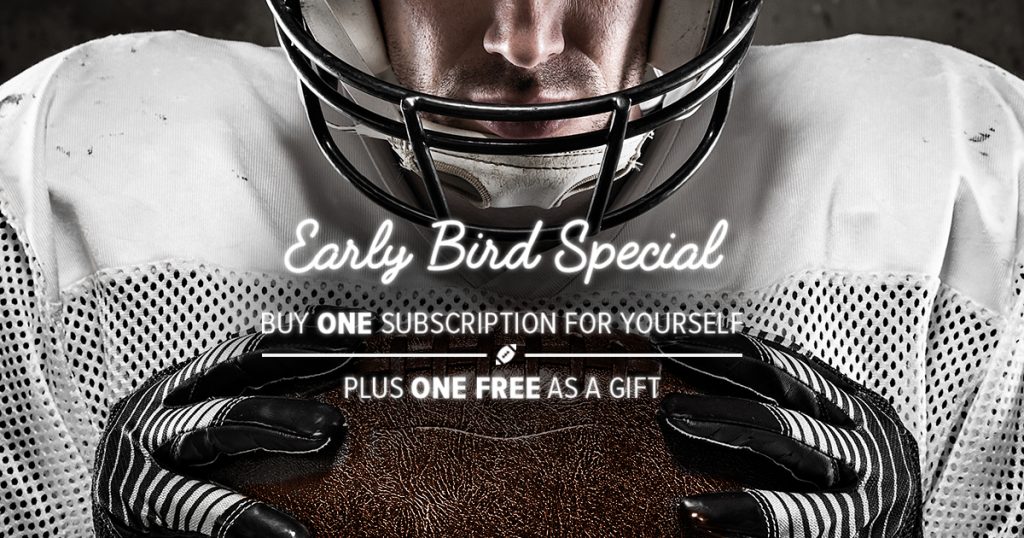 Buy One Get One Free
The Buy One Get One Free "Early Bird" Special is back! For just $31, you can get a full year PDF/Email subscription (23 issues) for yourself — and FREE BONUS subscription for a friend. Or spend $23 for a 17 week Email Subscription that will push a PDF version of our newsletter to your inbox during college football season.
The headlines in college football…
Sporting News – Alabama vs. FSU: Five questions about college football's biggest season opener ever
Sports Illustrated – SI's Preseason Top 25 Rankings: Alabama Is the Class of College Football, Again
AL.com – Nick Saban has his own thoughts on Josh Rosen's football, academics not mixing comments
Sporting News – Nick Saban responds to former Alabama QBs: 'You can't make everybody happy'
MSN – Anonymous coaches rip Saban as one of most overrated bench bosses
AL.com – How Alabama RB Bo Scarbrough has been 'processed' by Nick Saban
ESPN – Jeremy Pruitt could emerge as hot head-coaching candidate
ABC Sports – Ole Miss to face NCAA in rules violations case on Sept. 11
Washington Post – Ole Miss football pinned its NCAA scandal to a rogue assistant. He's fighting back
ESPN – Fully built by Harbaugh, now what?
MLive.com – Michigan's kick return competition still wide open, may not be settled until game week
Associated Press – The UAB Blazers back from football hiatus, full of mystery
AL.com – What questions does Jarrett Stidham have left to answer to officially win Auburn's QB job?
Associated Press – SDSU eager to fill football gap left by Chargers' departure
Associated Press – Troy embracing high expectations after best FBS season
Associated Press – Middle Tennessee hopes QB Brent Stockstill stays healthy
Charlotte Observer – Memphis ready to cement its new status as winning program
Bleacher Report – Each Top 25 CFB Team's Biggest Fall Camp Revelation
PennLive.com – Season-ending ACL injury of LB Jack Cichy hurts Badgers, but not enough to remove them as West favorite
Sporting News – Finding college football's next Mitch Trubisky: 10 breakout candidates
Sports CheatSheet – The 10 Most Shameful College Football Teams (That Are Also Good)
NCAA – College football: The best schedule posters and wallpapers for 2017