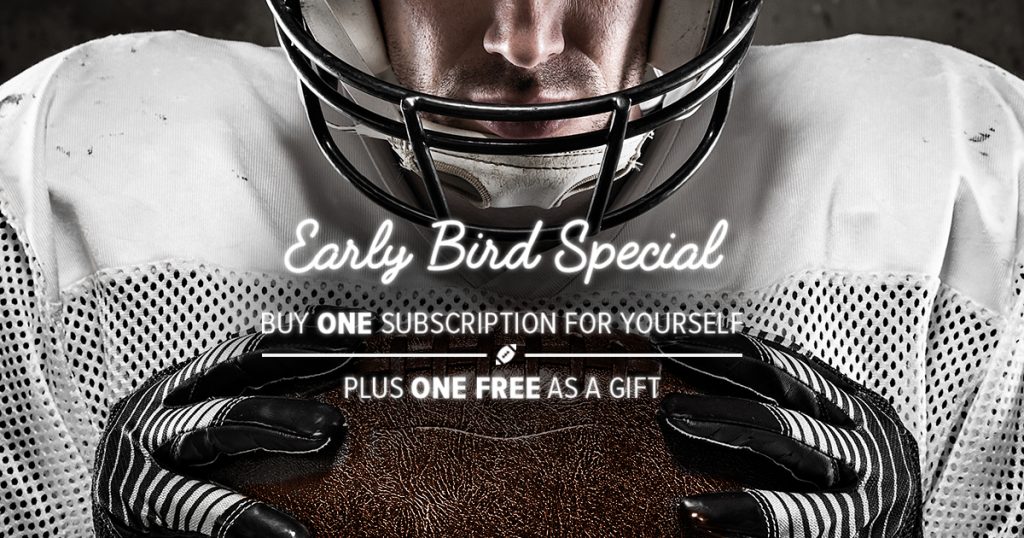 Buy One Get One Free
The Buy One Get One Free "Early Bird" Special is back! For just $31, you can get a full year PDF/Email subscription (23 issues) for yourself — and FREE BONUS subscription for a friend. Or spend $23 for a 17 week Email Subscription that will push a PDF version of our newsletter to your inbox during college football season.
The headlines in college football…
Yahoo! Sports – Could this be the best college QB class in history?
Bleacher Report – Jarrett Stidham Named Auburn's Starting QB over Sean White
Associated Press – Best friends, roommates vie for starting QB job at Kansas
Roanoke.com – Josh Jackson named Hokies' starting QB
Bleacher Report – Les Miles Is Enjoying Life Post-LSU—and Preparing for the Next Run
Bleacher Report – Antonio Callaway Among 7 Florida Players Suspended vs. Michigan
ESPN – Vols' Butch Jones says use of slogans 'blown out of proportion'
ESPN – P.J. Fleck is absolutely convinced he can get Minnesota rowing in the right direction
ESPN – Florida State will be a 'challenge' for Bama
Associated Press – K-State's Bill Snyder back on the sidelines for another year
Associated Press – Coaching carousel shakes up Group of 5 pecking order
Associated Press – Family ties helping Tennessee QBs deal with competition
Bleacher Report – 10 Realistic Upsets That Would Send the 2017 College Football Season into Chaos
CBS Sports – Key Big 12 Questions For 2017
CBS Sports – LSU's mind-blowing quarterback attrition streak continues with another transfer
CBS Sports – Why the hype for Notre Dame is dead before the season
CBS Sports – Four reasons you should not sleep on defending national champion Clemson
CBS Sports – Candid Coaches: Truth on whether players deserve money beyond cost of attendance
NBC Sports – Notre Dame-Wisconsin neutral site home-and-home all but official