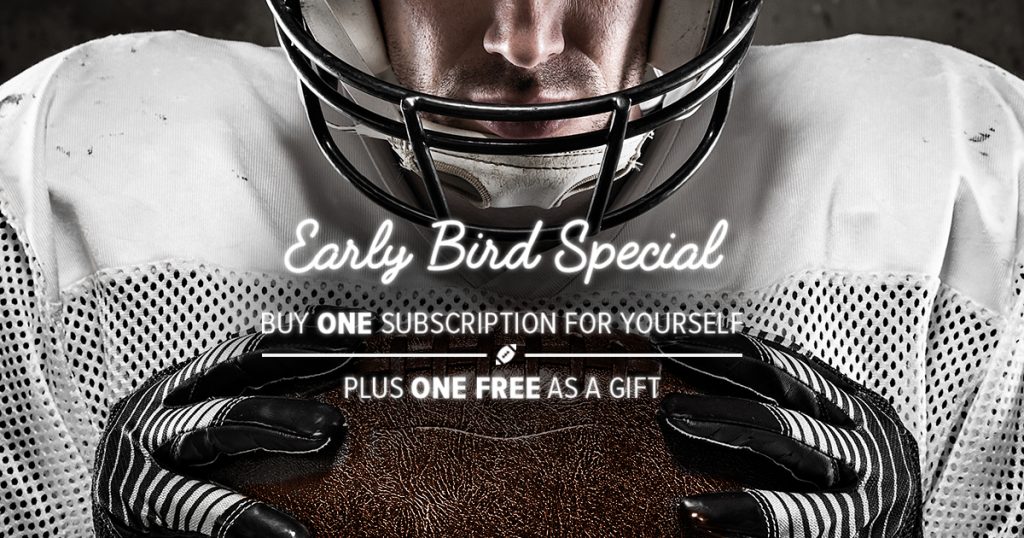 Buy One Get One Free
The Buy One Get One Free "Early Bird" Special is back! For just $31, you can get a full year PDF/Email subscription (23 issues) for yourself — and FREE BONUS subscription for a friend. Or spend $23 for a 17 week Email Subscription that will push a PDF version of our newsletter to your inbox during college football season.
The headlines in college football…
Bleacher Report – Week 2 Standings, Schedule and Predictions
Sports Illustrated – Week 2 Power Rankings: What Can We Learn About the Top 25 From One Game?
AL.com – Hurricane Irma: Miami-Arkansas State game canceled; AD releases statement
Orlando Sentinel – Hurricane Irma prompts UCF to move Memphis football game to Friday
Associated Press – Florida St drops to No. 10 after loss; Clemson up to No. 3
Associated Press – Auburn's Malzahn 'hopeful' RB Johnson will play vs Clemson
Associated Press – Alabama vs Miami in 2021 Chick-fil-A Kickoff Game
Sporting News – Kevin Sumlin brushes off regent's complaint, but former Auburn coach Gene Chizik didn't
AL.com – Jarrett Stidham did 'a whole lot of good things' in Auburn debut, Gus Malzahn says
Scout.com – Dabo Swinney Impressed By The Auburn Tigers
AL.com – Caylin Newton, Cam's brother, former Gus Malzahn wide receiver led Howard to historic upset of UNLV
Scout.com – Vols' unexpected contributors provide game-winning results
SB Nation – The Top Whatever: The season's 6 days old, and I'm already tired of Alabama
Dallas News – Was Josh Rosen that good in the second half or did Texas A&M defense just collapse?
Orlando Sentinel – Three questions for FSU after loss to Alabama, losing Francois for season
Sports Illustrated – Best- and Worst-Case Scenarios for Teams at the Center of Week 1's Biggest Plot Twists