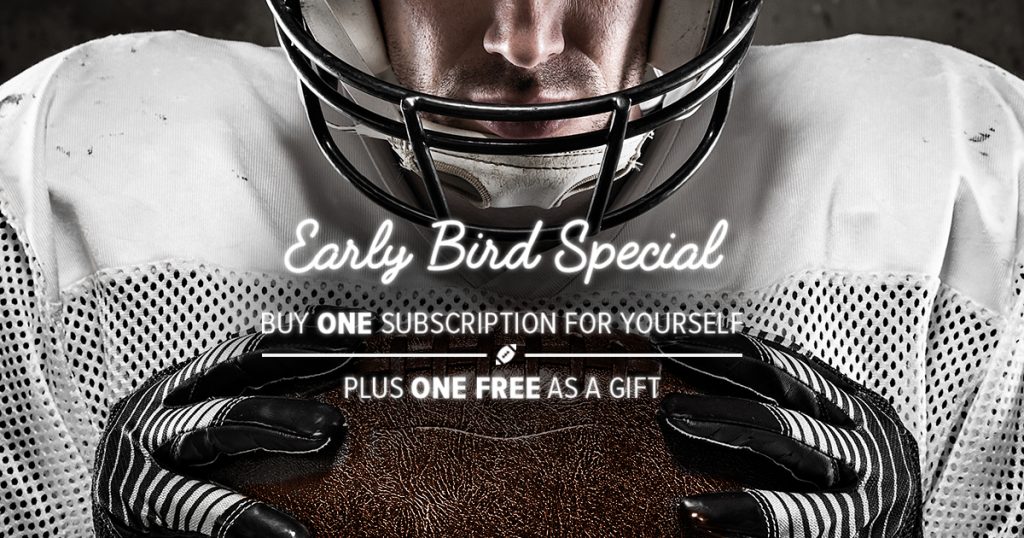 Buy One Get One Free
Time is running out to take advantage of the Buy One Get One Free Special! For just $31, you can get a full year PDF/Email subscription (23 issues) for yourself — and FREE BONUS subscription for a friend. Or spend $23 for a 17 week Email Subscription that will push a PDF version of our newsletter to your inbox during college football season.
The headlines in college football…
Associated Press – Week 3 Preview: Jackson vs. Clemson; Scouts flock to Laramie
Associated Press – No. 7 Michigan sticking with shaky Speight against Air Force
Associated Press – No. 2 Oklahoma turns attention to Tulane after big win
ESPN – Vince Young and Matt Leinart are still connected by the greatest game ever played
ESPN – GameDay Kickoff: ACC, SEC races get going in Week 3
ESPN – SEC Week 3 picks: Tennessee-Florida a tough one; LSU's first test
Sporting News – College football Week 3 primer: Heisman watch, upset picks, predictions and more
MSN – Nick Saban bristles at quarterback questions
AL.com – Charles Barkley 'frustrated' by Auburn, Kirk Herbstreit says offense 'a lot of window dressing'
Bleacher Report – ESPN College GameDay 2017: TV Schedule, Predictions and Location for Week 3
Fox Sports – FCS Game of the Week: North Dakota at South Dakota
Orlando Sentinel – UF defense looks to bounce back against rival Tennessee
Dallas News – Baby: It seems like there's a disconnect between perception and reality surrounding Texas A&M's team
NY Post – Kirk Herbstreit gets in bizarre Twitter fight with Ohio State recruits
The Advocate – Several LSU players remain in limbo entering SEC play against Mississippi State
Fansided – College Football Week 3: 5 underrated games you can't miss
Sports Illustrated – The SEC East Is Headed for Chaos Again. Who's in the Best Position to Survive It?