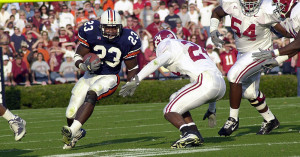 It's Rivalry Week in College Football and anything can happen.
When you're facing your hated rivals, pride and braggin' rights matter almost as much as championship runs. These are some of the greatest matchups in all of college football because they matter so much to the fans.
Auburn vs Alabama… Oklahoma vs Oklahoma State…  Ohio State vs Michigan… Clemson vs South Carolina… Georgia vs Georgia Tech…. Virginia Tech vs Virginia… North Carolina vs NC State… USC vs UCLA…
People will debate which rivalry is the most heated, but to most of us, this time it's personal. What follows the expiration of time this weekend may be 365 days of teasing from "those" fans.
There's another reason this is a special week. Keep reading below…
Bert Caldwell, one of the principle owners of The Kickoff, said big games against rivals should make predicting the outcome of the committee's final rankings interesting.
"Top-ranked Clemson still has to play at South Carolina and No. 2 Alabama will play in Auburn in the Iron Bowl," Caldwell said, noting that big rivalry games can inspire teams having bad seasons to rise to the occasion.
"One stumble and some teams could be out of it," he said. "These teams are definitely not a lock on finishing where they are ranked now. The playoff committee will have a full body of work from these teams before making their final decisions."
Speaking of which, it will be interesting to see what the College Football Playoff Committee decides November 24 following No. 3 Ohio State's 17-14 loss to No. 9 Michigan State on November 21. TCU, Wisconsin and Houston are out after Week 12 losses.
In the Kickoff Top 25, we saw the Buckeyes drop all the way from No. 2 to No. 8, with Alabama advancing to No. 2 behind Clemson. Oklahoma jumped from No. 6 to No. 3 in our poll while Michigan State fills out the No. 4 spot. Baylor rounds out our Top 5 teams in the country this week.
Our Kickoff Games of the Week will be Oklahoma at Oklahoma State and Ohio State at Michigan.
This week we are also hearing rumblings that LSU may part ways with Les Miles, who has won a national championship and two SEC championships and averaged 10 wins per season, yet lost three consecutive games to Alabama, Arkansas and Ole Miss, dropping out of the AP Poll on Sunday after winning their first seven games and having Playoff and Heisman buzz.
If you aren't getting The Kickoff, it's not too late to subscribe to the rest of the 2015 college football season. A 5 week subscription, which includes this week's issue, is just $5.90.
Get a Reduced Price Subscription now: http://bit.ly/1N4l65f
You can also call us to place your subscription order at (423) 267-0953 or by email at [email protected]
This week, The Kickoff is launching our Ultimate Tailgater Contest. We're giving away a YETI Cooler! YETI is the cooler of choice for outdoor enthusiasts, tailgaters and backyard barbeque kings. The rugged and durable Roadie 20, which retails for $249.99, will hold up to 14 cans and 20 pounds of ice. That will keep the party going for a while! We'll do a random drawing December 21st so don't miss out on this "cool" prize. One entry per person.
To enter the drawing, visit https://thekickoffstore.com/ultimate-tailgater-giveaway/