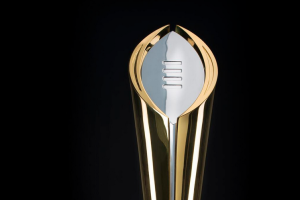 Another great season of college football ended Monday night with Clemson's last-second (literally) touchdown to defeat the Alabama Crimson Tide in the National Championship Game. Tommy Duff, Editor of The Kickoff college football newsletter, believes quarterback play was the difference for the Tigers.
"Deshaun Watson took a lot of punishment all night long and showed a lot of ability to stay calm and show poise in pressure situations," Duff said. "He torched the Alabama defense in the fourth quarter by wearing them out. They couldn't stop him in the second half. Watson played with a chip on his shoulder because he's from near Georgia but the kid they recruited for quarterback instead of him is now the Bulldogs' back up punter. Watson deserves all of the accolades he is getting."
Duff said Alabama switching offensive coordinators a week before the championship game did no favors for Quarterback Jalen Hurts. "Hurts made some good plays but he was off. He looked uncomfortable. When Bo Scarbrough got hurt, it deprived Alabama of their power back to pound the ball and Jalen had to carry the team."
In the end, Clemson's fourth quarter 21-point rally was too much for an Alabama defense that had dominated teams all season long.
Although Tide fans ended the night sad and shocked (perhaps having forgotten how it feels to lose a game), Nick Saban's team is always a threat to be right back in the national championship game next year.
Looking Ahead Part I
Duff said he also sees great potential for USC and Penn State: "The Rose Bowl was a great game at the same level as the national title game. These teams are loaded with talent. If USC was playing Alabama right now, I think they could be very dangerous."
He said the ACC showed it is moving closer to matching the SEC, but the loss by Ohio State and the performance of the Big 10 conference teams overall this season exposed "a flop. Penn State was the one good team that showed up this bowl season. Wisconsin was not a good matchup with Western Michigan in the Cotton Bowl. The Big 10 had 4 good-to-great teams, then a lot of mediocrity. SEC teams might have one week where they play weak teams, but the rest of the season they have to rise and play to the best of their ability to win."
Duff counts Oklahoma, which defeated Auburn in the Sugar Bowl, among the teams to watch in 2017 because of getting QB Baker Mayfield back.
"Georgia is also positioned to do well with Chubb and Michel returning," Duff said. "He may be a great recruiter, but it remains to be seen whether Kirby Smart can head coach after they went 4-4 in the SEC. I expect LSU will also do well. Auburn must find a quarterback that can work in Gus Malzahn's system. It's hard to put my finger on Tennessee, which is losing some great talent but has this Jarrett Guarantano kid who reminds me of Marcus Mariota and is faster than Dobbs. There will be pressure on Butch Jones to demonstrate the Volunteers are beyond rebuilding years and Tennessee hasn't peaked in what it can accomplish."
Looking Ahead Part II
The next issue of The Kickoff, due February 6th, will have full National Signing Day coverage. Duff said he loves covering recruiting "because it has all of the fun and intrigue of the regular season – the last-minute decisions and teams sending out their best recruiters to battle for the next crop of great talent. We'll be listing the Top 10 in every position and following these high school kids and JUCO talent."
In fact, The Kickoff publishes a total of 23 issues each year, including 6 during the off-season. This fall, the cycle will begin anew.
"The Kickoff would like to thank everyone for helping to make our 67th year successful," Duff said. "We are planning on some big additions for next year with weekly bonus coverage. We look forward to seeing you next season!"
To subscribe to THE KICKOFF, email [email protected], call (423) 267-0953 or subscribe online: https://thekickoffstore.com/subscriptions/individual/
Copyright: munktcu / 123RF Stock Photo