Our Kickoff Games of the Week are #1 LSU at #2 Alabama, #5 Penn State at #13 Minnesota, and #22 Wake Forest at Virginia Tech.
Changes to the AP, Kickoff Top 25 as CFP Poll Announced
On the AP Poll, LSU remains in the top spot, closely followed by Alabama. It's going to be fun watching these two SEC powerhouses clash this weekend and answer the question of "Who is the best of the West?"
Teams on the rise include #6 Georgia, #8 Utah, #9 Oklahoma, #11 Baylor, #15 Notre Dame, #16 Wisconsin, #18 Iowa, #19 Memphis, #20 Kansas State, #22 Wake Forest, and #24 San Diego State. Florida fell 4 spots to #10 while SMU fell 8 spots to #23. Appalachian State dropped out of the AP Top 25.
Last week's Kickoff #2, Ohio State, fell to #4 on our poll behind LSU at #2 and Clemson at #3. Florida fell from #6 to #12. To see the other changes, subscribe to get your issues of The Kickoff college football newsletter.
The College Football Playoff Rankings were released Tuesday night. The initial Top 4 teams are #1 Ohio State, #2 LSU, #3 Alabama, and #4 Penn State, with #5 Clemson and #6 Georgia waiting in the wings. Then it is #7 Oregon, #8 Utah, #9 Oklahoma, and #10 Florida filling out the rest of the Top 10.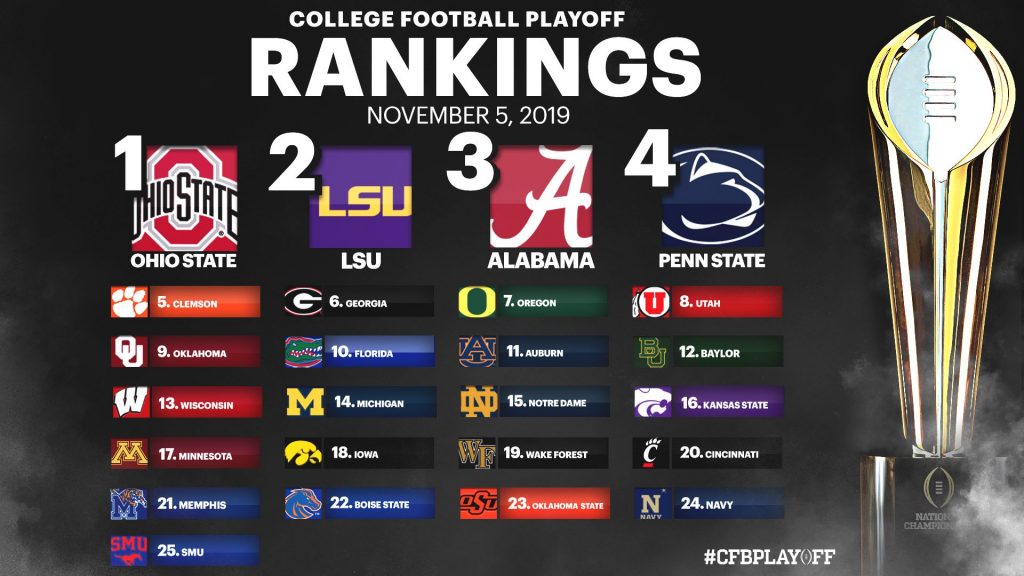 Six teams on the poll have not played another team on the Top 25, including Alabama, Boise State, Clemson, Minnesota, Utah, and Wake Forest.
Also in this week's issue, we list the Single Season D1/FBS Rushing Leaders, the Yearly D1/FBS Rushing Leaders, a Conference breakdown, the Kickoff FBS Strength of Schedule through November 2nd, News and Notes, On this Date in 1994, Trivia, the Kickoff Thermostat, Division 1A FBS Expanded Standings, Average Margin of Victory Leaders, Kickoff times and television schedules, opening over/under odds and our picks, the opening consensus odds and picks, October trends, and our Power Ratings for this weekend's games.
Willie, We Barely Knew You
The Florida State Seminoles fired Head Coach Willie Taggart after Saturday's embarrassing 27-10 loss to Miami. He got the axe after coaching just 21 games, finishing 9-12. They weren't bowl eligible last season. Don't feel too bad for the coach, who will get a buyout in the $18 million range. Former Florida State athletic director Stan Wilcox, who hired Taggart in December 2017, stepped down eight months later to join the NCAA.
What do you think? Was Taggart given enough time to rebuild? Will other coaches be reluctant to come to FSU? Or will firing Taggart before the end of the season give the Seminoles an edge on other schools who are waiting? Former Tennessee and USC Coach Lane Kiffin has reportedly expressed an interest in the job.
Who will we see cut loose next? Clay Helton at USC? Chad Morris at Arkansas? Mike Bloomgren at Rice? Scott Frost at Nebraska? Joe Moorhead at Mississippi State? Barry Odom at Missouri? Pat Fitzgerald at Northwestern? Dana Holgorsen at Houston?
The hot seat is getting very warm as these coaches run out of time to turn things around.