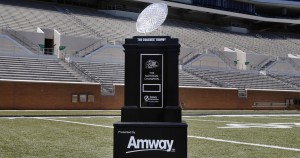 The 2015 preseason Amway Coaches Poll came out Thursday, and it was no surprise to find the defending national champions in the top spot. Second-ranked TCU and No 3 Alabama each claimed one first-place vote apiece. Tommy Duff, editor of The Kickoff newsletter, said he disagreed with where several of the teams ended up on the poll, mostly because there are so many untested quarterbacks in the mix.
"I think No. 4 Baylor, last year's Big 12 co-champions with TCU, may be a little overrated. I'm skeptical you're going to have that much success right away breaking in a new quarterback to replace Bryce Petty, but on offensive line, Baylor returns all 5 starters, which should provide the QB with plenty of protection," Duff said.  "Trevone Boykin missed the TCU spring game with a wrist injury and his backup QBs were a concern."
The Amway Coaches Poll is conducted weekly throughout the regular season using a panel of head coaches at FBS schools. Each coach submits a Top 25 with a first-place vote worth 25 points, second place 24, and so on down to one point for 25th. The Kickoff's own Pre-season coverage, ranking the teams based on how we expect their season to end, launches later this month – take advantage of a Buy 1, Get 1 special on individual subscriptions for a limited time so you can consult the Kickoff's Weekly Power Ratings each week during the college football season!
So much of how these teams end up hinges on how fresh talents react to the challenge. Duff believes the teams with All Conference quarterbacks returning will see a distinct advantage over those adjusting to growing pains.
"Jacob Coker has had a year to get ready to lead Alabama's offense after failing to get the quarterback spot last fall, but he only has a year left. Oregon (ranked No. 5) is going to play well, but they aren't going to break away without Mariota, their Heisman winning quarterback. Florida State (No. 8) is overrated, bringing in a transfer at quarterback who has just started practicing and has to pick up the system fast. I would have ranked Auburn higher (No. 7) because their quarterback has potential and has been a starter in a big game before," Duff said.
Eight SEC teams begin the season in the top 25; five of them (Bama, Auburn, No. 13 LSU, No. 15 Ole Miss and No. 20 Arkansas) represent the West Division. Georgia is ranked at No. 9 in the Coaches poll, Missouri is No. 23 and Tennessee is on there at No. 25.
"Tennessee fans have been through a lot, from Kiffin to Dooley," Duff said. "The Volunteers have potential to jump a lot higher because the skill positions are in place on paper. I wonder if they have the depth to rotate so the first stringers aren't overplayed. Until they do it, they won't move up the rankings."
Also earning spots in the Coaches Poll Top 25 are Michigan State (6), USC (10), Notre Dame (11), Clemson (12), UCLA (14), Arizona State (16), Georgia Tech (17), Wisconsin (18), Oklahoma (19), Stanford (21), Arizona (22), and Boise State (24).
"I think Boise State could run the table with their schedule," Duff said. They face Washington, BYU, Virginia, Hawaii, Colorado State, Utah State, Wyoming, UNLV, New Mexico, Air Force, and San Jose State. We'll begin to know more after their first game on Sept. 4th.
This week we learned that Ohio State has suspended All-America defensive end Joey Bosa, receiver Corey Smith and H-backs Jalin Marshall and Dontre Wilson for its opening game Sept. 7 at Virginia Tech. The defending national champions open the season Labor Day night in Blacksburg, Virginia, against the only team to beat them last season. "That is concerning because Bosa is projected to be the number one draft pick for the NFL next year," Duff said. "It's a very delicate situation for Ohio State. We'll just have to see how explosive they are."
The Kickoff is your secret weapon to excel in your fantasy league, office pool or when talking college football with co-workers and online friends. While we aren't affiliated with the Vegas oddsmakers, our newsletter is a useful tool in prognosticating about games. Our Power Ratings use a statistical formula, giving readers a powerful tool for comparing football programs and anticipating the outcomes. Between August and January, we publish 17 weekly issues that are available in print and electronic versions. We put out an additional 6 monthly issues (February – July) covering recruiting, spring practice and transfers.
Learn more about our Buy 1 Get 1 Pre-Season Special at  https://thekickoffstore.com/subscriptions/individual/