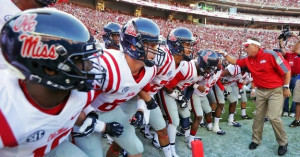 As we enter week 4 of the college football season, we're seeing major disruption in The Kickoff Top 25.
After being upset last week by Ole Miss, who we had ranked at No. 15, Alabama slipped from No. 3 on the Kickoff Top 25 all the way to No. 12 (The AP poll now has Ole Miss ranked third behind Ohio State and Michigan State, while the Crimson Tide is also ranked No. 12 there).
Last week's No. 13 team, Auburn, dropped out of our Top 25 altogether after losing so badly to LSU, 46-21, that Coach Gus Malzahn benched his quarterback (a pre-season Heisman candidate) this week in favor of a freshman who has never played a game at the college level but will have to rise to the challenge as the team that LSU beat by 2 points in week 2, Mississippi State, comes calling. Auburn dropped out of the AP Top 25 completely but hung on to No. 25 in the Coaches' Poll. A mighty fall for a team that many predicted in the pre-season would earn a spot in the playoffs.
The win in Baton Rouge shot LSU from No. 11 to No. 4. AP has the Tigers ranked at No. 8. They play Syracuse on Saturday. RB Leonard Fournette was one of our superlatives this week, as he had 19 carries for 228 yards and 3 touchdowns versus Auburn, fueling LSU as the hottest team in the SEC.
While Auburn and Alabama fans are in shock, at least they did not fall as hard as USC, which has vanished from the Top 25 after losing 41-31 to then-unranked Stanford (USC was our No. 6 last week; Stanford is No. 21 on AP's poll, No. 25 on ours). Other shocking upsets last week: UCF lost to Furman, Arkansas fell to Texas Tech, Iowa State lost to Toledo, and Colorado bested Colorado State.
Power ratings aside, Georgia has replaced Alabama and Auburn as the SEC teams most likely to be Top 4 Seeds from the Playoff committee, along with Ohio State, TCU and Notre Dame. Our pick of the first 4 out? Probably UCLA, Michigan State, FSU and LSU.
In terms of conferences, the Big 12 leads with the highest percentage of wins, followed by the Pac-12. The SEC comes in third, then the ACC, Big 10, American, Independent, MAC, C-USA, Sun Belt, and MWC.
TCU and Ohio State swapped places on our Top 25 this week as the Horned Frogs edge the Buckeyes on our Power Ratings. Georgia Tech fell from No. 9 to No. 19 in our Top 25, while Oregon, Oklahoma, FSU, Arizona, Utah, and Wisconsin are all on the upswing.
Our No. 14 team, Oregon, plays our No. 18 team, Utah, is one of our Kickoff Games of the Week. Oregon leads the series 20-8, including last year's 51-27 rout. We're picking them to repeat again on Saturday. Our other game of the week features two teams that have struggled in recent years but are rebuilding, Tennessee at Florida. We're picking the 3-0 Gators to win in what might be a close one. They lead the series 25-19 over the Vols and narrowly edge them in our Power Ratings, so it should be a pretty good game with both teams about even.
In our most recent edition of The Kickoff, published Sept. 21st, we have news and notes, a listing of the 78 most highly paid coaches in college football, complete FBS and select FCS schedules and results thus far in the season, our Kickoff Top 25, information on those games of the week, our Kickoff Playoff Seeds, information about the "targeting" rule (which we've seen applied in some games this year), and, of course, our Kickoff Power Ratings with the teams playing this week, along with our picks to win, comparative ratings, and last year's score so you have the data you need at a glance to make your selections in your office pool.
To subscribe, visit https://thekickoffstore.com/subscriptions/individual/ . You'll get all of our issues so far in the season and a new newsletter each Monday (email/PDF subscribers only, during the week for first-class mail subscribers to our printed edition). For a limited time, when you subscribe to our email/PDF version for just $20, you can sign up a friend to receive The Kickoff in his or her email inbox for FREE. What a great buddy that would make you!
If you are a business owner looking for a great way to keep yourself in front of your customers, check out our business subscriptions at https://thekickoffstore.com/subscriptions/business/
Also, test your knowledge of college football by participating in our Thursday Throwdown questions. We'll see whether we can stump you (no cheating).
Talk to us this weekend while we watch the games. Which upsets are you expecting? How is your team doing so far this year? Sound off! Use the hashtag #thekickoff on Facebook and Twitter so we can follow your conversations.
Enjoy this weekend's games. We'll be watching alongside you.