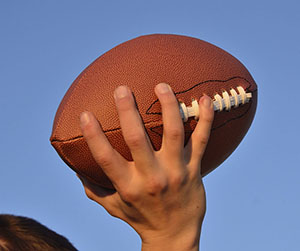 With less than two weeks before the start of the regular season, it is crunch time for teams to choose their starting quarterbacks.
Will it be JT Barrett or Cardale Jones at Ohio State? Jake Coker or David Cornwell at Alabama? Everett Golson or Sean Maguire at Florida State? We'll soon know.
Braxton Miller simplified things a little bit by moving to receiver for the Buckeyes, but we still don't know for sure who will take the first snap against Virginia Tech. Urban Meyer promised no announcement will come before Sept. 7, but he's in a good position with two proven winners in the running locked in a fierce competition for the starting job. It's possible that Barrett may start under center with Jones running the option. That's a scenario sure to cause headaches for defensive coordinators.
"Coach Meyer has a tough decision to make," said Tommy Duff, Editor of The Kickoff newsletter, which covers college football with 17 issues weekly during the season. "Neither Barrett nor Miller participated in the spring game, leaving Cardale Jones the chance to make the most of the opportunity. Jones was inconsistent during the spring game, leaving the door open for Barrett to reclaim his starting QB slot this fall."
We questioned whether the quarterback questions at Alabama are reasons to feel the Crimson Tide is overrated in preseason polls. After all, Jake Coker was supposed to set the world on fire last year and ended up as a backup QB. You'd think he would be the sure pick with another year under his belt to learn the system, now there's word Coker's dealing with a foot injury and has missed practices. That heightens speculation about redshirt freshman David Cornwell becoming the starter if Coker isn't healthy. Of course, with so much talent, Nick Saban also has true freshman Blake Barnett or Alec Morris or Cooper Bateman to throw in the mix. The Tide starts the season Sept. 5th at AT&T Stadium.
"Coker failed to really separate himself from the pack, due to inconsistent play throughout spring practice. The spring game official rosters had Coker listed first team and Cornwell 2nd. That being said, it was Coker who had the best spring game showing, though Saban refrained from naming him the starter at that point," Duff said.
Jimbo Fisher faces the daunting task of replacing Jameis Winston. Golson, the former Notre Dame quarterback, seems more likely to fill Winston's shoes – if he's had time to learn the FSU offense. The Seminoles open at home against the Texas State Bobcats on Sept. 5th.
"The conventional wisdom is that Maguire has done enough to separate himself from his
competition to replace Jameis Winston, but coach Fisher noted his inconsistent play during the spring game," Duff said.
Things have gotten interesting in Oregon after dual-threat player Vernon Adams passed summer school. Jeff Lockie was Marcus Mariota's backup, so he may be better positioned to get the job. The Ducks play Michigan State on Sept. 12th.
"Oregon has one of the more intriguing QB stories of the offseason," Duff said. "Adams transferred from Eastern Washington and was initially overlooked by FBS schools because of his size (5'11" 170 lbs.), but had led the FCS program to victory over Oregon State and put up 475 yards of total offense in a close loss to Washington during the last two seasons."
At Oklahoma, two-year starter Trevor Knight may lose the job because of past turnovers to Baker Mayfield if the Texas Tech transfer hasn't been affected by "shoulder fatigue" reported in the offseason. Also in the mix is Cody Thomas. The Sooners play Akron on Sept. 5th.
"Knight entered the 2014 season expected to have a breakout season after leading the team to a victory in over Alabama in their bowl game. It was much different this spring (after an injury shortened and disappointing season) as Knight found himself in a 4 way competition to hold onto his job. Some around the program had expected Mayfield to take over the spot, but he threw costly picks in the spring game. None of the four QBs were able to make any real separation in spring," Duff said.
We'll know the answers to these questions in just a few days!

The Kickoff is your secret weapon to excel in your fantasy league, office pool or when talking college football with co-workers and online friends. While we aren't affiliated with the Vegas oddsmakers, our newsletter is a useful tool in prognosticating about games. Our Power Ratings use a statistical formula, giving readers a powerful tool for comparing football programs and anticipating the outcomes. Between August and January, we publish 17 weekly issues that are available in print and electronic versions. We put out an additional 6 monthly issues (February – July) covering recruiting, spring practice and transfers.
Learn more about our Buy 1 Get 1 Pre-Season Special at https://thekickoffstore.com/subscriptions/individual/