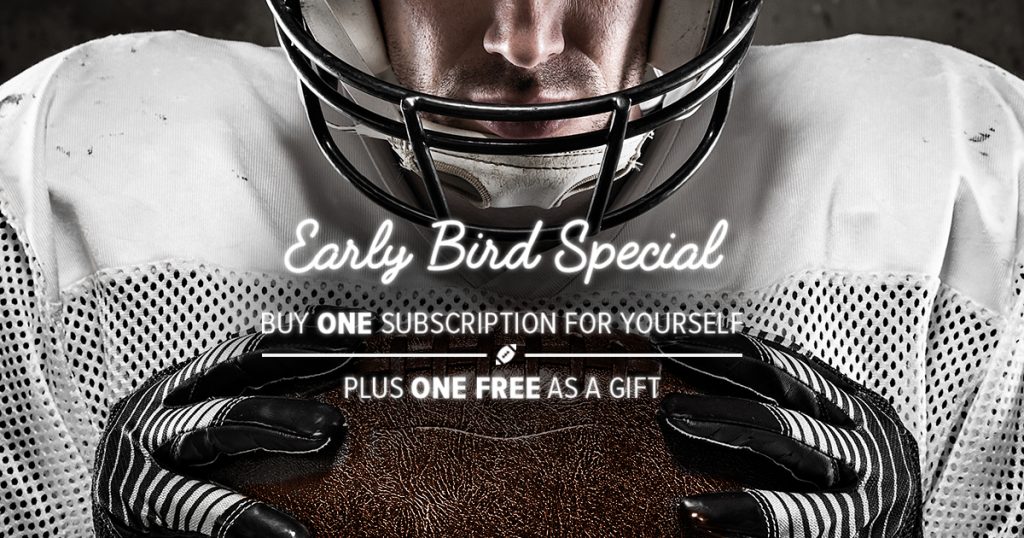 Buy One Get One Free
The Buy One Get One Free "Early Bird" Special is back! For just $31, you can get a full year PDF/Email subscription (23 issues) for yourself — and FREE BONUS subscription for a friend. Or spend $23 for a 17 week Email Subscription that will push a PDF version of our newsletter to your inbox during college football season.
The headlines in college football…
Associated Press – Lights, camera, action: No. 1 Bama, No. 3 FSU ready to roll
NBC Sports – Nick Saban: only thing player injured in shooting guilty of is 'being out late'
Associated Press – Q&A: New Indiana coach hopes to make most of dream job
Associated Press – Player collapses, dies during football practice in Florida
ESPN – 2017 bold predictions: Look out for Urban Meyer's revenge in 2017
ESPN – How big is Michigan-Florida opener? Depends whom you ask
ESPN – Why Virginia Tech's Brandon Facyson is savoring every sip of college life
Bleacher Report – Expert Predictions for the 2017 College Football Season
AL.com – Can Auburn QB Jarrett Stidham escape Art Briles' shadow?
Sports Illustrated – Art Briles Didn't Deserve a Second Chance in the CFL, or Anywhere Else
SB Nation – Alabama vs. Florida State will be decided by the passing game. Who's that favor?
SB Nation – Jim McElwain and Jim Harbaugh exchanged a few jabs ahead of Florida-Michigan
MSN – Your Complete Guide To College Football's Neutral-Site Games In 2017
CBS Sports – Inside College Football: The return of BIll Clark and UAB, the wandering Owls
CBS Sports – These are the 17 college football teams that can win the national title in 2017
USA Today – This year's 'guarantee games' worth $150 million for college football programs
Sports Illustrated – 2017 College Football Crystal Ball: Playoff Picks, Bold Predictions and More
Yahoo! Sports – LSU-BYU game moving to New Orleans, Rice finds refuge at TCU (Update)