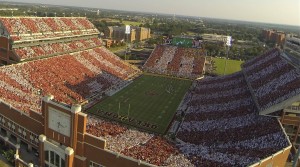 Our Kickoff Games of the Week are Oregon at Michigan State and Oklahoma at Tennessee. These two evening games should be fun to watch.
Oregon (ranked No. 6 on our Kickoff Top 25, No. 7 by AP) and Michigan State (our No. 7, AP's No. 5) have played five times since 1979, both winning games they respectively hosted. The Ducks lead the series, 3-2, and are favored over the Spartans by a very slim margin, making this one a tough one to call. Oregon won last year, 46-27, en route to the playoff game. They play in East Lansing at 8 pm Eastern with the game on ABC.
Saturday marks just the third time No. 23 Oklahoma (19 on the AP ranking) and No. 21 Tennessee (23 for AP) have played each other since 1938, the Sooners winning two of those, including last year's 34-10 game in Norman. The teams have played each other twice in the Orange Bowl. The Volunteers have earned a higher power rating based on what we saw last week. Kickoff is at 6 pm at Neyland Stadium, televised on ESPN.
In Monday's edition of The Kickoff in our Top 25, TCU traded places with Ohio State. This was based on the scheduling of the Ohio State opener after our last issue went to press earlier that day. The Buckeyes defeated Virginia Tech 42-24 in that opener and remain at the top of the AP poll. It's worth noting that Bovada has named Cardale Jones as a 7/1 favorite to win the Heisman after he won the starting QB job while giving Boykin 9/1 odds. The Horned Frogs should have no problem putting away Stephen F Austin on Saturday. The Buckeyes are also favored over Hawaii.
Alabama and Auburn switched spots as No. 3 and No. 4 on our Top 25 after Jake Coker showing he could lead the Crimson Tide while the much-hyped Jeremy Johnson stumbled with three interceptions. Bama meets up with MTSU as Auburn plays Jacksonville State. The AP moved Alabama to No. 2 behind Ohio State while Auburn was unchanged at No. 6 after beating Louisville 31-24 last week.
In the rest of our Top 10, Baylor, USC, Georgia, Clemson are unchanged in ranking from week one in spots 5, 8, 9, and 10 respectively. Baylor plays Lamar, USC plays Idaho, Georgia is favored to win over Vanderbilt, and Clemson shouldn't have any problems with Appalachian State.
In the rest of our Top 25, FSU, UCLA and Notre Dame moved ahead while LSU fell a spot (not playing last week due to the rainout) . Boise State and Oklahoma State moved ahead of Wisconsin (after the 35-17 loss to Bama last weekend). Ole Miss jumped from 22 to 18. Arizona and Tennessee moved up 1 spot each. Oklahoma jumped 2 spots from 23 to 21. Arkansas also impressed us, moving from 24 to 22. Utah entered our Top 25 while Missouri was unchanged at No. 25. Gone from the Top 25 is Arizona State (which debuted at No. 12), after losing last week to Texas A&M, 38-17.
On our Kickoff Thermostat this week, we had Notre Dame, UCLA and Boise State trending up. Penn State's 27-10 loss to Temple was the most shocking of the first week upsets.
Which games are you most fired up to watch? Which teams do you expect (or hope) to see an upset this week? Let us know.