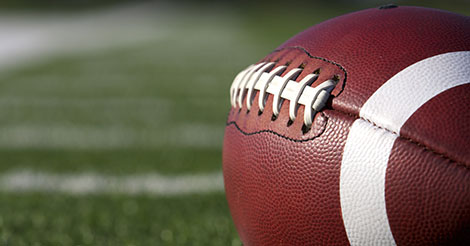 College Football is back!
Things got off to an exciting start Thursday night as North Carolina and Minnesota gave South Carolina and TCU a run for their money. With a season as successful as last year, we doubt Trevone Boykin and the Horned Frogs will be left out of the playoffs again; we picked Boykin to our 2015 Preseason Kickoff All-Americans list. As we predicted, Utah spoiled Jim Harbaugh's debut at Michigan. Arizona, Georgia Tech, Hawaii, Nevada, Oklahoma State, Utah State, UConn, San Jose State, Wake Forest and Western Kentucky all won their games Thursday night.
We are thrilled to see this weekend's matchups and finally get answers to the questions fans have had all year: Will Alabama play well enough against Wisconsin to deserve their high pre-season ranking? Can Virginia Tech spoil Ohio State's bid to repeat as National Champs? How will Boise State players react to Chris Petersen's return with Washington? Can teams, coaches and players live up to the hype? Which young quarterbacks will best respond to the pressure?
Everett Golson, Baker Mayfield and Vernon Adams won their respective QB jobs at Florida State, Oklahoma and Oregon, but we'll just have to see who Nick Saban and Urban Meyer send in for the first series.
Earlier this week, The Kickoff published our first issue of the college football season. No doubt some of you have already consulted our Power Ratings before making your picks for this weekend. It's not too late to subscribe so you can receive 16 more weeks of our newsletter, plus an additional six issues published during the off-season. Each Monday, we push it to your email inbox in PDF form or mail the printed version to your home or office.
In the first issue, we listed our Kickoff 2015 Preseason Top 50. Here's the Top 25 from that list:
Ohio State
TCU
Auburn
Alabama
Baylor
Oregon
Michigan State
USC
Georgia
Clemson
Georgia Tech
Arizona State
FSU
LSU
UCLA
Notre Dame
Wisconsin
Boise State
Oklahoma State
Arizona
Tennessee
Ole Miss
Oklahoma
Arkansas
Missouri
To see picks for 26-50 (as well as our Power Ratings for the teams above and a comparison of how our Top 25 matches up with the Vegas rank and Coaches Poll ranking), subscribe to The Kickoff today: https://thekickoffstore.com/subscriptions/individual/
Just like you, we'll be glued to our television sets this Labor Day weekend, feasting on football after a long fast. The faces on the tube are changing a bit. Former Alabama Quarterback Greg McElroy replaces Tim Tebow on SEC Nation. Rece Davis is poised to take over ESPN's College GameDay, replacing longtime host Chris Fowler.  Love them or hate them, Mark May and Lou Holtz will be tough to replace on ESPN Gameday Final, but we'll see how Joe Tessitore and Joey Galloway do.
Some of the breakout players we'll be paying close attention to: Jeremy Johnson of Auburn, Derrick Henry at Alabama, Anu Solomon at Arizona, Seth Russell at Baylor, Jared Goff at Cal, Deshaun Watson at Clemson, Dalvin Cook at FSU, Brad Kaaya at Miami (Fla.), Malik Zaire at Notre Dame, Mason Rudolph at Oklahoma State, Royce Freeman at Oregon, Joshua Dobbs and Jalen Hurd at Tennessee, Kyle Allen at Texas A&M, and Cory Clement at Wisconsin.
Talk to us on social media this weekend and let us know which teams and players you think are overhyped, which upsets you expect to see and what your own predictions are. Our Facebook Page is https://www.facebook.com/TheKickoffZone , our Twitter is https://twitter.com/TheKickoffZone and you can find us on Google+ at https://plus.google.com/u/0/b/115092886371908088449/115092886371908088449/posts . Include the hashtag #thekickoff so we can follow your conversation.
Subscribe to The Kickoff today: https://thekickoffstore.com/subscriptions/individual/