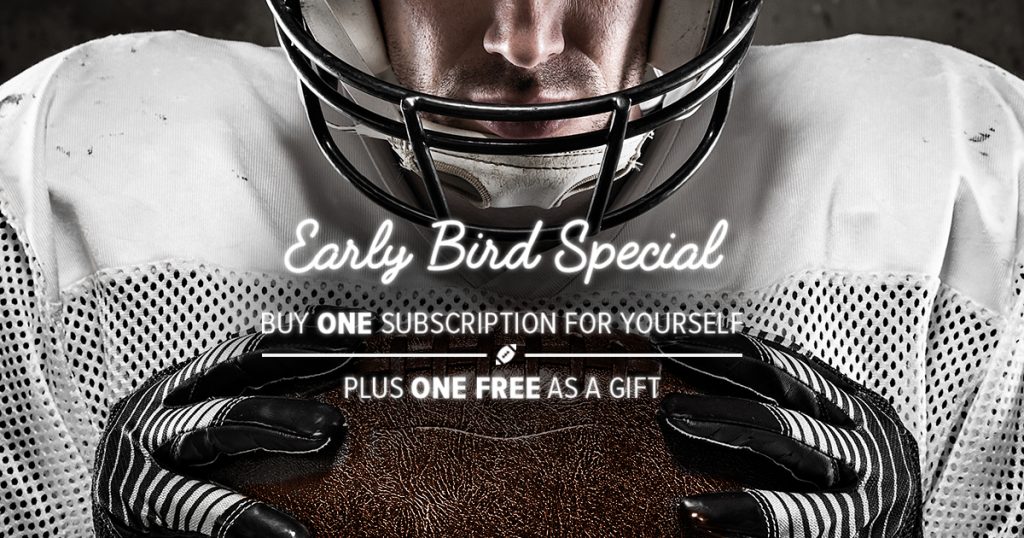 FINAL CHANCE: Buy One Get One Free
The Buy One Get One Free Subscription Special is back! For just $31, you can get a full year PDF/Email subscription (23 issues) for yourself — and FREE BONUS subscription for a friend. Or spend $23 for a 17 week Email Subscription that will push a PDF version of our newsletter to your inbox during college football season.
—
We are now in the thick of the 2017 season, gaining some clarity about which college football teams are contenders and which ones simply hope to salvage what's left.
The preseason was full of talk about potential, but we never really know how teams will perform and respond to pressure until practice turns into full-contact games.
The season, so far, has produced some stunning upsets and surprise upstarts. We are at the stage where teams are hoping the successes or losses of their recent opponents reflect well on the College Football Playoff selection committee. This is also a critical time when injuries will begin to slow the momentum of teams.
Vanderbilt started out 3-0 and was riding high after beating Kansas State 14-7 in Week 3. The Commodores, however, hit a brick wall called the Alabama Crimson Tide in Week 4 and found themselves 3-2 after losing to Florida.
Enthusiasm also rose in Starkville after Mississippi State beat LSU 37-7. This was tempered by a 31-3 loss to Georgia and a 49-10 pounding by Auburn, as well as the realization that LSU would lose to Troy in week 5. Speaking of Auburn, they got off to a slow start in 2017 with an anemic offense that failed to live up to preseason hype, losing to the defending national champion Clemson Tigers and barely beating Mercer before turning things around with impressive wins over Missouri, Mississippi State and Ole Miss. Then they blew a 20 point lead in Baton Rouge and fell 11 spots in the latest AP Poll, breaking the hearts of fans who were beginning to think the Tigers might actually be in the College Football Playoff discussion after all.
Ohio State's fortunes fell after the Buckeyes couldn't complete passes over 10 yards against Oklahoma on their home turf, but came back with wins over Army, UNLV and Rutgers. They fell from a No. 3 ranking to No. 12 this week. The Sooners fell from their No. 3 ranking after losing a Week Six shocker to Iowa State, which was a 31-point underdog.
The Florida Gators lost their opener against Michigan, then struggled to beat Tennessee and Kentucky — then came Saturday's 17-16 loss to struggling LSU. An ugly 41-0 loss by the Volunteers to Georgia was enough to make Butch Jones' seat much warmer. The Bulldogs, in contrast, look like the team to beat in the SEC East. Speaking of Butch Jones, he looks like a "dead man walking" as he faces Nick Saban.
Alabama is off to an unsurprising undefeated start that included that 59-0 humbling of Vanderbilt and a 66-3 win over Ole Miss. So far, the Tide has done nothing to prove itself unworthy of the top spot in the polls. Aside from Bama and Georgia, the rest of the Southeastern Conference is uncharacteristically weak so far this season. Kevin Sumlin and Texas A&M have had mixed success. Arkansas was 2-2 headed into the loss at South Carolina. On Sept. 2nd, the Gamecocks handed NC State their sole loss so far, which seems odd considering the Wolfpack has wins over better teams like Florida State and Louisville.
Perhaps no team in the country has disappointed this season like Florida State, which was expected to give Alabama more of a challenge in the season opener and also had that 27-21 loss to NC State. Initially ranked No. 4 in the preseason, the Seminoles aren't even in the Kickoff's Top 25 rankings anymore.
Things have not gone so well for Nebraska, Missouri or Stanford, earning them mention on the chilly end of the Kickoff Thermostat — our newsletter feature highlighting weekly good or bad superlatives.
On the flip side, Washington State's 30-27 upset of USC had fans talking playoffs before they lost this past weekend. At the start of the season, USC was ranked No. 2 in The Kickoff Preseason Top 25. At UCF, Scott Frost has done a phenomenal job of turning the program around. Clemson has shown capable of winning without Deshaun Watson — at least until facing Syracuse.
Other teams on the rise so far this year include TCU, Michigan, Miami (FL), and Utah. However, the Wolverines lost 14-10 at home to Michigan State. The Hurricanes managed a last-minute win to end the losing streak to Florida State. And how about Penn State?!
The polls have seen tremendous change with so many upsets over the last couple of weeks. As the saying goes, any given Saturday…
To get the special Buy One Get One Free Special on 2017 electronic versions (PDF) of The Kickoff newsletter, delivered weekly on Monday mornings to email inboxes (as advertised on WDEF Channel 12), click the link.
Additionally, you can subscribe by visiting this link to print, fill out, and mail the form to us with your enclosed check or credit card number. A third option is to call our office at (423) 267-0953.