"It's time for spring football, where new faces step into the spotlight and we prepare for another season at The Kickoff," said Tommy Duff, editor of our college football newsletter. "We are proud to add some big additions to our email version of The Kickoff this year in what will be our 67th edition."
Duff explained that for the 2017 season starting this fall, two pages of additional content will be forthcoming for The Kickoff's email/PDF subscribers. A print version, sent by First Class Mail, is also available to subscribers with four pages of content. The Kickoff publishes 17 weekly issues during college football season, plus six off-season issues between February and July that tackle topics like recruiting, the NFL draft and spring preparations.
"The two additional pages of content in the email/PDF version will be all new information, either expanded beyond what we have done in the past or have never used until now," Duff said. "For the last few years, we have been working on ways to incorporate additional ratings into The Kickoff. It has been a long process as we have spent the last two years testing these new models to ensure their accuracy."
What to Expect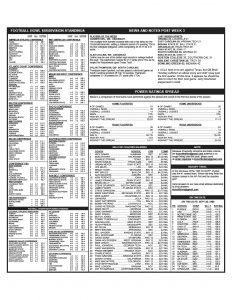 The Kickoff is known as one of the most accurate prognostication tools in college football, primarily because of the proprietary "Power Ratings" that use a combination of factors to predict performance from week to week during the season. Duff said the new content being added with Issue 1 in September including ratings that work differently.
"This new rating works differently from our Kickoff Power Rating as it doesn't rank teams, but predicts the margin of victory on a weekly basis. Not only will we have our front page picks based upon power ratings, but will include our weekly picks against the spread. Also included will be expanded records, which will include weekly home/road records, offensive and defensive output by game, and a complete breakdown of opponent winning percentage and opponents of opponents winning percentage."
This information serves to better inform college football fans about the variety of considerations that can affect the outcome of games on any given Saturday, including overall wins and losses, weekly trends, home/road favorites, etc. While no system is infallible, Duff said The Kickoff has a good track record of surpassing the accuracy of similar sources online. With multiple data points, Duff can factor in many elements and give readers of The Kickoff a better resource for predicting team performance.
"We have worked very hard to put together a system that will ensure The Kickoff's continued success in our accuracy, and we hope these new additions will add to your weekly college football experience," Duff said.
Choices, Choices: Which Version Do You Want?
While some subscribers prefer the printed edition to hold in their hands – and it makes a great direct advertising tool for business subscribers who want to get in front of prospects – there are some advantages to receiving the electronic version. Chief among these is speed, with the PDF version typically arriving in an email inbox by Monday morning during the season. Printed versions, on the other hand, require a little more time to be printed and delivered by the US Postal Service to a physical address. The electronic version is also more affordable.
Speaking of pricing, the Email/PDF version of The Kickoff is available for just $23 to receive 17 issues this fall or $31 to receive all 23 issues published before September 2018. An Early Bird Special is live now with a special Buy One, Get One FREE offer: Subscribe for $31 and we'll send an additional copy of the 23 issues to the email inbox of a buddy, your dad, your boss or anyone who loves the game as much as we do. The Kickoff is offering this deal to coincide with the NCAA Men's Basketball Tournament, so when it ends April 3rd, so does the deal. Don't miss it: https://thekickoffstore.com/product/buy-one-get-one-free-pdf-subscription/