Prognostication is not an exact science, but precision forecasting is the aim. Hype rules the Pre-season as coaches look for optimism going into Media Day events. Few would ever be brave (or eccentric) enough to signal to the faithful that disaster awaits the team – saying things like "the best Christmas gift this fall will be an end to our misery" is hardly a good way to pre-sell stadium tickets and inspire exceptional efforts from the student-athletes.
Eyes on the Prize: The College Football Playoff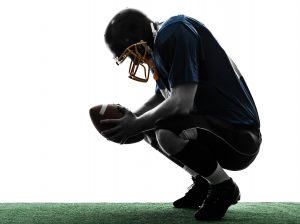 A handful of sportsbooks have already released their early offerings for the 2019-20 national championship futures, and 2019 Heisman winner odds have been floating around for a few weeks now.
Since there's no such thing as time travel, you never know EXACTLY how the final season record will turn out (postponed games due to hurricanes and knee injuries can reverse fortunes quickly), but past performance and a host of mitigating factors offer clues on which to base future picks. Mediocre teams with a historical track record may get the benefit of the doubt while others on the rise may need two or three years of shocking critics to emerge from the trend of always starting the season behind the traditional powers.
Case in Point: The Florida State Seminoles were the preseason No. 3 team and predicted by many to play in the National Championship Game, yet they didn't even play in a bowl game in 2018. They needed a win against Southern Miss in the Independence Bowl to finish above .500.
The Texas Longhorns went from preseason No. 5 to a five-win season in 2010. In 2012, Lane Kiffin's Southern California team finished 7-6 after being tabbed preseason No. 1. This is the reason many fans wait to get their hopes up. By Week 4 or thereabouts, we may start to allow ourselves to emotionally invest in going all… the… way…
If you're going to lose a game, it's better to get the heartbreak over early so there's time for a course correction.
Other teams go into 2019 underrated, the way Florida and Texas A&M surpassed the expectations last season. We can't wait to see who the surprise victors will be.
You factor in which players are expected to be healthy and make an impact. Recruits may fall flat and end up transferring. A 5-star athlete may go elsewhere based on the coach getting fired in some scandal or needing to retire because of a health emergency. Coaches may feel pressured to suspend key players for that big rivalry game after young men make poor choices. The capacity for things to quickly spiral toward misfortunes is part of what makes college football so thrilling to follow.
"Over-Rated"?
Great coaches use their teams being considered underrated as a motivational tool while it is typically the fans and sportscasters who deem programs as overrated or past their heyday. If that perception sticks, programs may find it necessary to send a coach on his way to shake things up with an audacious hire. That's part of the reason the salaries of college football head coaches are way up there with CEOs of major corporations. Some coaches are on the rise, others hoping this is the year they turn things around.
Based mostly on past-performance and a demonstrated capacity to reload after losing players and coaches, the oddsmakers are understandably giving the benefit of the doubt again to teams like Alabama, Clemson, Ohio State, Michigan, Georgia, Oklahoma, and Texas.
However, like any performer in high stakes professions, you're only as good as your last outing.
The opening odds for Alabama to win the 2020 college football championship game next January, set this past Jan. 7th, were 3/2, with Clemson given opening odds of 7/2. In the March 11 update, Bama's odds were 5/2, Clemson's 2/1, likely based on the Tigers' dominant showing in the title game. You can bet that Tide Coach Nick Saban will have his boys thirsty for a return to the big game in the Mercedes-Benz Superdome, ensuring a huge fan turnout in the Big Easy with about a 5-hour drive from Tuscaloosa. Standing in their way? Every other college football program in the country wants to prevent that from happening.
It will be interesting to see how things change between Week One and Week Eight. Right now, everyone's eye is on the prize.
Schedules for Remaining Spring Games
It's that wonderful time of year when we get our first taste of what awaits us on the other side of summer.
March 23 – BYU
March 29 – Western Michigan
March 30 – Appalachian State, Liberty, & Vanderbilt
April 5 – Duke
April 6 – Arkansas, Boise State, Boston College, Clemson, Coastal Carolina, Florida State, LSU, NC State, North Texas, Ole Miss, Purdue, South Carolina, TCU, Tulsa, UAB, UNLV, USC, Wake Forest
April 12 – Army, Buffalo, FIU, Houston, Indiana, Kentucky, Memphis, Toledo
April 13 – Akron, Alabama, Arizona, Auburn, Ball State, Baylor, Central Michigan, Charlotte, East Carolina, Eastern Michigan, Florida, Florida Atlantic, Fresno State, Georgia State, Illinois, Kansas, Kansas State, Kent State, Louisiana, Louisiana-Monroe, Louisiana Tech, Michigan State, Middle Tennessee, Minnesota, Mississippi State, Missouri, Nebraska, North Carolina, Notre Dame, Ohio, Ohio State, Oklahoma, Old Dominion, Penn State, Pittsburgh, Rutgers, San Jose State, SMU, South Alabama, Southern Miss, Stanford, Syracuse, Temple, Tennessee, Texas, Texas A&M, Texas State, Texas Tech, Tulane, UCF, USF, Utah, Utah State, UTEP, Virginia Tech, West Virginia, and Western Kentucky.
April 20 – Arkansas State, Bowling Green, Georgia, Miami (Ohio), Northern Illinois, Oklahoma State, Oregon, Oregon State, Troy, UCLA, UMass, UTSA, and Washington State.
April 26 – Georgia Tech.
April 27 – Colorado, Hawaii, Marshall, Maryland, Nevada, Virginia, and Washington.
Which teams are you most eager to follow this Spring?