Now that the 2018-19 College Football Season is over with the Clemson Tigers claiming the National Championship, it's time to do a "post mortem" on how the season went, including how The Kickoff measured in terms of our preseason predictions. Of course, you can only be so accurate before Game One, basing your analysis on the prior season's performance, historic performance over time, the quality of returning and new players, and factors such as the difficulty of schedule, coaching changes, etc. That can all get thrown off if a seemingly difficult schedule ahead is impacted by teams who underperform. That's part of what makes the off-season so exciting: Trying to look into a crystal ball and determine how things will turn out.
As always, 2018 brought us the share of disappointments and surprises. Once we got into the actual games and Media Days hype turned to Game Day realities, adjustments in expectations naturally followed.

Where We Got It Pretty Much on the Mark
Clemson vs Alabama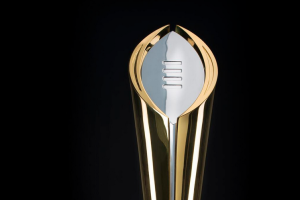 We started our preseason rankings with Alabama at #1 and Clemson at #2, separated by a very thin margin on our Power Ratings. In our Final Top 25 Poll, Clemson (15-0) tops Alabama with 5.4 difference in the Power Rating comparison after watching the Tigers tame the Tide 44-16 in the National Championship Game. It's a pretty safe bet to put Clemson or Bama at the top of your yearly prognostications. The question now is whether the Tide's lackluster performance at the end will impact their placement on the 2019 preseason rankings.
We Were in the Ballpark
Georgia, Ohio State, Oklahoma, Oregon, Stanford,
We expected Georgia to contend again for the title. They finish a respectable 11-3 and have the 7th highest final Power Rating in a comparison of teams. AP has the Bulldogs tied at #7 with Florida.
Our preseason #5, Ohio State, went 13-1 and sent Coach Urban Meyer out with a 28-23 win over Washington in the Rose Bowl.
Oklahoma came so close this year, finishing 12-2 and losing to Alabama 45-34 in the College Football Playoff Semifinal. They were our Preseason #8 pick, so we arguably underrated them. We joined AP in ranking them #4 in our Final Top 25.
We ranked Oregon at #22 in our Preseason predictions. They finished 9-4, earning the #20 spot on our final Top 25.
We put Stanford at #11 preseason. They went 9-4, beat Pittsburgh in the Sun Bowl and come in at #18 in our final Top 25.
The Kickoff ranked Notre Dame as the preseason #12. The Nittany Lions finished 12-1, losing to Clemson 30-3 in the Cotton Bowl, a Playoff Semifinal. They're ranked #5 for both us and AP.
We Didn't See That Coming
LSU, Texas, Texas A&M, Florida, Washington State, Kentucky, Fresno State, Syracuse, Army, Utah State, Iowa State, Northwestern
We didn't have LSU, Texas, Texas A&M, Florida, Washington State, Kentucky, Fresno State, Syracuse, Army, Utah State, Iowa State, Northwestern, in our pre-season Top 25, but we weren't the only ones surprised by the success of these schools in 2018.
LSU finished 10-3 and is #6 on our final Top 25 (#6 on the final AP Poll) after beating UCF 40-32.
Florida finished 10-3 and is #8 (#7 on the final AP Poll) after defeating Michigan 41-15.
Washington State had an 11-2 season, and we have them at #9 (AP has them at #10). They beat Iowa State 28-26.
Texas was a big surprise, going 10-4 and finishing the season as our #12 team (AP put them at #9) after beating Georgia 28-21.
Texas A&M is right behind them at 9-4, ranked #13 (AP doesn't show as much love, ranking them #16). They beat NC State 52-13.
Kentucky went 10-3, earning the #15 spot on the final Top 25 rankings (AP has them at #12 after beating Penn State 27-24).
Fresno State's record was 12-2, ending ranked #16 (AP says #18). They defeated Arizona State 31-20.
Syracuse had a 10-3 season and is our #17 (AP #15). The Orangemen beat West Virginia 34-18.
Army's season went great at 11-2 and the #19 position for both us and AP. They shocked Houston with a score of 70-14.
Utah State comes in at #22 on both after having an 11-2 season and beating North Texas 52-13.
An 8-5 season was enough to put Iowa State at #23 (AP leaves them out of the top 25).
Northwestern's 9-5 season puts them at #24 (AP ranked them #21). They beat Utah 31-20.
A Season these Teams Would Rather Forget
Miami (FL), Wisconsin, Auburn, Penn State, Michigan State, FSU, Southern Cal, West Virginia, Virginia Tech, TCU, Mississippi State, South Carolina, and Georgia Tech
It's important to remember that our Power Ratings can often include minuscule differences between very talented teams. Nevertheless, comparing them in chronological order at Season's end can give a sense of how schools ended up performing in comparison to the rest of the field.
The outlook was good for Mark Richt as the Hurricanes returned 13 starters from 2017 and no Clemson on the regular season schedule. We had them ranked #4 in the preseason, but they finished with a 7-6 record and come in at #54 in our comparison of Power Ratings. Ouch.
We put the Wisconsin Badgers at #7 in the preseason due to finishing the previous regular season with a 12-0 record and returning 10 starters, including All American Jonathan Taylor at RB, but we knew 2018 would be more challenging with both Michigan and Penn State on the schedule. Their final record was 8-5, beating Miami in the Pinstripe Bowl. Their final position in the Power Ratings is #34.
We knew Auburn's tough schedule in the brutal SEC West, including Georgia in their locked non-divisional game, would make it difficult for the Tigers to contend for a spot in the Playoffs, but they looked good in the season opener vs. Washington after we picked them as the Preseason #9 team. After self-destructing, they were lucky to finish 8-5 and finish at #35 in the Power Ratings. Still, they looked like a totally different team against Perdue in the Music City Bowl.
We ranked Penn State at preseason #10 because of trending up under James Franklin and returning lots of starters on defense and Heisman candidate in QB Trace McSorley. The Nittany Lions took a step backward, going 9-4 and losing to Kentucky in the Citrus Bowl. They finishing at #25 in the Power Ratings.
On paper, Michigan State looked like a team that should be in contention for a berth in the playoffs, with 10 starters returning on offense and 9 starters on defense from their 10-3 squad, but we noted that State plays in one of the toughest divisions in college football. They finished 7-6 and lost to Oregon in the Redbox Bowl, ending the season at #49 in our Power Ratings.
We expected our #14 pick Florida State to rebound from the previous year with Heisman hopeful QB Deondre Francis back, but it was not a good year for new Coach Willie Taggart. They ended the year at #68 in the Power Ratings.
We put Southern Cal at #15 preseason, noting USC was talented but unproven at skill positions. They finished 5-7 at #72 in the Power Ratings.
We put West Virginia at #18 preseason due to returning 7 starters on offense, led by perennial All American Will Grier at QB. The Mountaineers finished 8-4, lost to Syracuse in the Camping World Bowl and come in at #26 in the Power Ratings.
Virginia Tech was our Preseason #18 with 12 returning starters, including QB Josh Jackson. They finished the year 6-7 and arrive at #62 in the Power Ratings.
TCU was our pick at #20 because of the potential talent. That didn't happen with a 7-6 record and losing to California in the Cheez-It Bowl. They come in at #40 on the Power Ratings.
We picked Mississippi State at #21. The Bulldogs went 8-5 and lost to Iowa in the Outback Bowl. They end the year at #30 in the Power Rating comparison.
South Carolina, our preseason #24, was a big disappointment in 2018, finishing #44 in the Power Ratings.
Georgia Tech was our #25 preseason pick and ended the year 7-6, arriving at #52 in the Power Rating comparison.
Look for our Next Issue on February 8th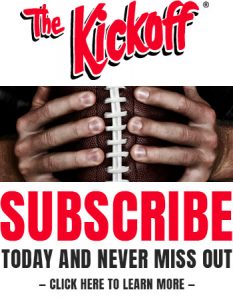 We would like to thank everyone for helping to make our 68th year successful. We hope you enjoyed the season as much as we enjoyed spending it with you. Stay tuned for our recruiting issue next month.
We are offering Buy One Get One Free Email/PDF Subscriptions for 2019, so go ahead and get yours taken care of today. We look forward to seeing you next fall!
Let us know how your picks went this year!