College football begins anew as THE KICKOFF prepares to publish our first issue of the new season on Monday, August 29.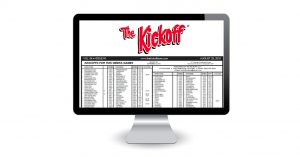 Those of you who have subscribed to our email/PDF version can expect to see it in your inbox as you start your week and begin to make your picks in your office pool or fantasy football league for the Sept. 3rd matchups. This is a Monday morning ritual you'll repeat throughout the fall. If you have not resubscribed yet, visit http://bit.ly/kickoffBOGO to get an additional issue to give a friend for FREE. Don't wait, the promotion ends Sept. 1st! You can also give us a call at 423-267-0953.
Defending National Champions Alabama sit at the top of the new AP Top 25 Poll just released. Certainly, Nick Saban always has enough playmakers to contend for the title in any given year.
The Top 4 (Bama, Clemson, Oklahoma & Florida State) are identical in the Coaches' Poll. The AP thinks LSU will have a better year than Ohio State, vice versa for the Coaches' Poll. Both polls have Michigan, Stanford, Tennessee, Notre Dame, Ole Miss, Michigan State, TCU, Washington, Houston, UCLA, Iowa, Georgia, Louisville, Southern Cal, Oklahoma State, North Carolina, Baylor, Oregon, and Florida in their Top 25 rankings.
Other teams receiving votes in the AP Poll, but failing to crack the Top 25, include Miami, Texas A&M, Utah, Washington St., Boise St., San Diego St., Wisconsin, Auburn, Pittsburgh, Arkansas, Texas, Nebraska, Navy, Northwestern, W. Kentucky, South Florida, and Toledo.
Earlier today, KICKOFF Editor Tommy Duff revealed our Top 25 on WAAK-LP K94.7 radio in Boynton/Ringgold, Ga., with talk show host David Jenkins. The top of the rankings match the other polls, as would be expected. Duff said the Sept. 3 game between Oklahoma and Houston will tell fans a lot about whether the Cougars deserve to be ranked #13. Georgia is ranked #14, he said, because it has potential but also some question marks, including how Kirby Smart will settle in as a head coach in Athens.
Duff said #36 Auburn did not crack the Top 25 because of injuries, the departure of running backs and uncertainty about how QB Sean White will do when many expected John Franklin to get the starting job and "be a superstar". The Florida Gators barely failed to crack the Top 25, coming in at 26; Duff said their first real test will be a Tennessee team that has to win on Sept. 24th with the Volunteers preseason ranked as high as #6. Butch Jones may feel his seat starting to get warm if the Gators get a 12th straight win in the series.
What are your preseason thoughts?…
Which teams do you think are over-rated?
Will Bama repeat as National Champs?
Which schools will come out of nowhere to shock us this fall?
Which games have the most potential to shake things up early in the Top 25?
Which four will face off in the College Football Playoff?
Now's your chance to put your choices in writing so you can brag, "Pfffft. I called it back in August…" THE KICKOFF is certainly locking in our Preseason Prognostications in Monday's first issue. We've been doing this since 1951, so you might want to listen up. Our weekly KICKOFF Thermostat tells you which teams are trending up or down and why.
In contrast to the other polls, THE KICKOFF releases our Preseason Top 50. We typically start the season by comparing our ranking to the Vegas Oddsmakers' ranking and the Coaches' ranking for the previous season. We preview Games of the Week and assign our proprietary KICKOFF Power Rating to the teams so you have a quantifiable way of comparing them when making your weekly picks. We'll list the schedules of FBS and select FCS teams so you have a handy reference of who plays when and where. We tell you who we think are going to be the Breakout Players to watch in 2016. We look back in history to the rankings of the past and entertain you with weekly trivia questions that test your knowledge of the sport.
We want to have an ongoing conversation with you on Twitter throughout the season so we can talk about college football. Be sure to follow us at https://twitter.com/TheKickoffZone !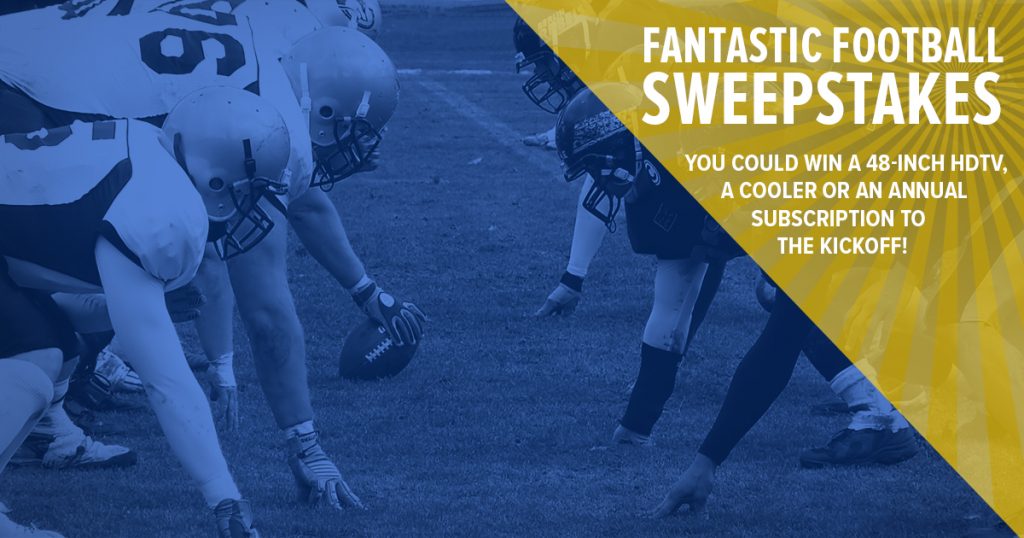 Even if your favorite team isn't a winner this fall, you could be, but first you'll need to sign up for our FANtastic Football Sweepstakes. We've already started weekly drawings for a free 2017 subscription, as well a chance to win coolers and a 48-inch HDTV to watch games on. Sign up to enter at https://thekickoffstore.com/the-kickoffs-fantastic-football-sweepstakes/